Introducing iPhotography's…
WILDLIFE PHOTOGRAPHY COURSE!
Get ready to turn your average animal snapshots into sharp, beautifully composed wildlife photos you're thrilled with!
Wildlife photography demands a different set of knowledge and skills to any other type of photography.
To shoot incredible wildlife photos you first need to know how to deal with an animal's:
Natural (or captive) environment
Vibrant (or elusive) personality
Awesome size (or tiny presence)
This takes special craft skills and an acute understanding of animal behaviour.
Unfortunately, most wildlife loving photographers end up frustrated and unhappy with their shots because they've never been shown the right way to photograph animals in all their majestic glory…
iPhotography is excited to announce a new and different online course that takes you on a thrilling learning journey from complete novice to skilled wildlife photographer!
What's Covered In This Wildlife Photography Course?
From common garden insects and beloved furry pets, to birds, big cats and giant beasts – here are some of the animal categories and locations you're going to master through this exciting new wildlife course:
Pets
How to capture your pet's personality perfectly
Insects
How to take photos of bugs that are always in focus
Birds
How to capture sharp bird photos – in your garden or in flight
Local Wildlife
Approaching and shooting fast-moving local wildlife
Safari
Pro lessons for photographing animals in the wild
Farms & Fields
Shooting farm animals with the whole animal in focus
Zoos
How to photograph animals through glass and wire enclosures
National Parks
How to get close and shoot animals in their natural habitat
Countryside
Capturing beautifully composed photos of countryside animals
You, the Wildlife Photographer!
Whether you're a beginner or a wildlife photography enthusiast, you're about to discover how to dramatically improve your wildlife photos – without needing expensive kit to do it.
ANIMAL PHOTOS THAT ARE ALWAYS IN FOCUS
You'll discover the wildlife photography settings you need to capture even the fastest moving animals (on land or in flight).
You'll learn the nuances of animal behaviour so that you can get close enough for sharp, in-focus shots, without scaring the animal, putting yourself in danger, or missing that brief magical moment.
WILDLIFE TIPS, TRICKS & KIT YOU NEED
You'll discover the essential kit you need to suit any budget, what to take out with you, and what to leave behind.
And you'll learn a whole range of wildlife photography tips, techniques and tricks that only the most experienced wildlife photographers know and use to consistently capture wall-worthy animal photos.
Meet Rachel, Your Wildlife Course Instructor!
This online wildlife photography course has been created and delivered by Rachel Sinclair, an expert wildlife photographer, teacher, safari specialist and all round animal lover.
Hi, I'm Rachel your iPhotography Wildlife Course instructor! After studying photography for four years and working in a busy high street studio shooting weddings and portraits, I realised my calling in life was spent amongst animals.
Since 2007 I have been photographing dogs on location and wild animals all over the world. Having spent copious hours on Kenya's savannahs capturing wildlife at its rawest, I've lead photographic safaris in East Africa's most magnificent wildlife hot spots and run workshops in the UK, amongst its notorious elusive wildlife.
I love to help amateur photographers create stunning images of wild animals that are worth sharing. I feel each and every one of us can make a real difference to conservation and inspire others to care more about our natural world.
I look forward to you joining me on this wild adventure!
Your Wildlife Learning Pathway
Understanding your subject is vital, that's why we've created the best and most complete online wildlife photography course available. It takes you on an incredible learning journey – from the very basics right through to advanced wildlife photography and editing techniques. Even what to do with your final images!
Module 1: Wildlife Photography Cameras, Lenses & Accessories
In Module One, we start with the basics of wildlife photography:
Discover different types of digital cameras (DSLR, Mirrorless, phone and more).
Which is the best camera for wildlife photography (Is it a Canon? Nikon? Or something else)
Wildlife photography lenses.
How sensor size and crop factor affect your image.
Focal Lengths and how they work.
Which accessories are essential for wildlife photography & why.
Wildlife photography on a budget.
Module 2: Camera Settings for Wildlife Photography
In Module Two, explore the best camera settings for wildlife photography:
– Find out what Exposure is & How it Works.
– How to use Aperture, Shutter Speed & ISO when shooting wildlife.
– How to use a histogram and why.
Module 3: Focusing
– Understand what Focus Modes to use and when
– How to change your exposures quickly
– The difference between shooting in JPEG and RAW
Module 4: Practising on Pets
Discover the secrets to capturing your pet's personality, spirit and story in beautiful memories and adorable pet portraits:
– Find out why it is a good idea to practise on pets
– How to look out for distractions in your images
– How to capture still and fast-moving animals
Module 5: Basic Editing in Photoshop & Lightroom
– We'll cover basic editing techniques to quickly & easily enhance your wildlife images
– How to change your images to black and white in post-production.
Module 6: Shooting Wildlife at Home & Locally
– Discover how to approach and photograph wildlife in your garden.
– How to use a macro lens & the principle behind focus stacking.
– Different types of natural lighting and how to use them for best effect
Module 7: Equipment for Wildlife Photography
In this module, you'll discover the equipment needed for wildlife photography
Wildlife photography equipment list.
What accessories are worth buying for wildlife photography.
How crop sensors affect more than just your focal lengths.
The best lenses for wildlife photography.
How to look after your lens.
Do you need a tripod?
Module 8: Safari & Zoo Practise
In this exciting module, filmed on location, you'll learn zoo photography!
Planning a successful photography day trip at the zoo.
Why some zoos are better than others for photography.
How to photograph animals in enclosures.
Professional wild animal photography.
Working your scenes.
Module 9: Photographing Native Wildlife
– Planning where to go.
– Photographing on location.
– Shooting bird portraits
– Capturing birds in flight.
– Photographing birds in their natural environment.
Module 10: Preparing Images for Export
– How to catalogue your images.
– Enhancing your images and using presets.
– Preparing your wildlife images for print.
– Framing and making photobooks.
Module 11: Wildlife Photography Abroad
In this module we'll look at the best places for wildlife photography and how to plan for it:
Planning when and where to go.
How to research an animal species.
Photographing animals in the wild.
Module 12: Using Your Images
How to keep improving your wildlife photography.
Wildlife photography in social media.
Entering wildlife photography contests and competitions.
Winning photography awards.
How to sell wildlife photography.
Conservation.
You can pause, rewind, speed up or slow down each wildlife photography tutorial. And you can watch them over and over again, until you know this stuff almost as well as Rachel does!
From bug to beast – it's all covered in this online Wildlife Photography Course and delivered in Rachel's warm and endearing style. You're going to love it!
Tutor Assessed Projects
& SELF-GRADED Assignments
This is not just a course of theory. Along with the training, you'll get real, practical projects and assignments so that you can challenge yourself and put what you're learning into practise within your own home, garden or further afield.
Includes 3 photography projects that are personally appraised by Rachel Sinclair!
Includes 5 self-graded assignments. You'll be amazed at your results and how quickly you're developing!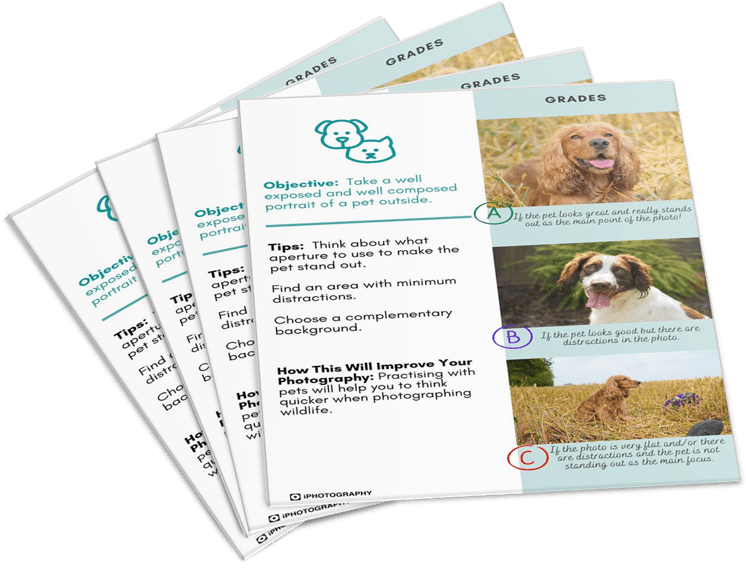 Your projects and assignments are laid out in super simple steps that anyone can follow to get immediate results.
What kind of huge difference could Rachel's personal appraisal make to your wildlife photography?
Who Should Take This Course?
This is the perfect course if you're a pet lover, bird-watcher or wildlife enthusiast who wants animal specific photography skills to capture what you see, so that you can share your passion with the world.
The course covers a wide array of topics, all packed with valuable wildlife specific information delivered by a bona fide expert.
The lessons are easy to understand and apply for wildlife photography beginners and amateurs, with lots of real world examples to show exactly what effect certain settings would have on your photos – making learning fun, fast and effective.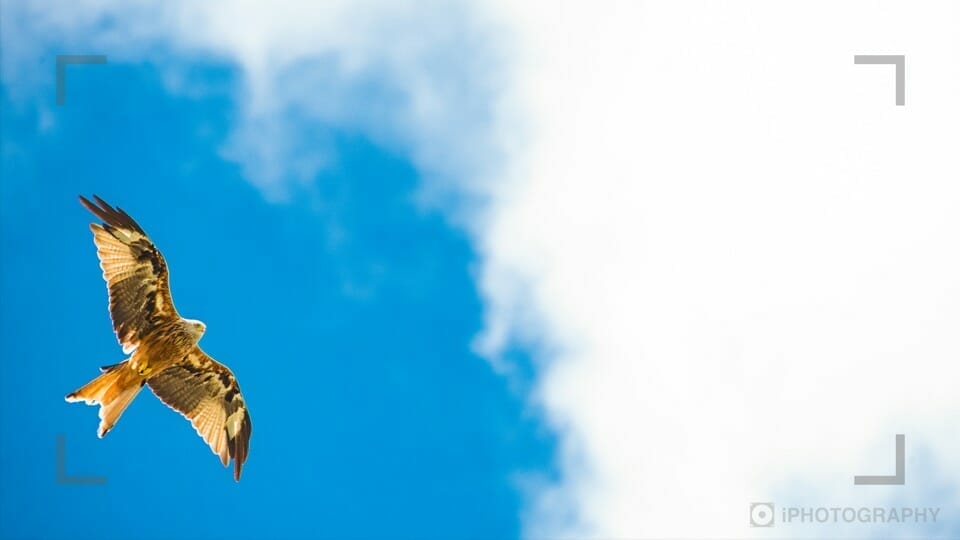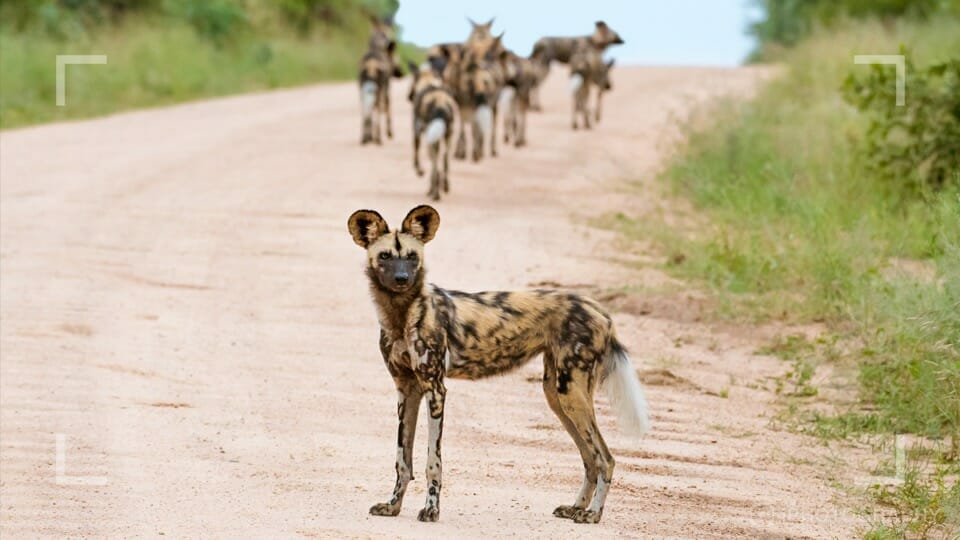 Whether it's bugs bustling in your backyard, birds suddenly swooping over your head, or a herd of elephants appearing on the Serengeti Plains – with the iPhotography Wildlife Course you'll be ready, prepared and able to react quickly and capture that majestic animal moment, before it's lost forever.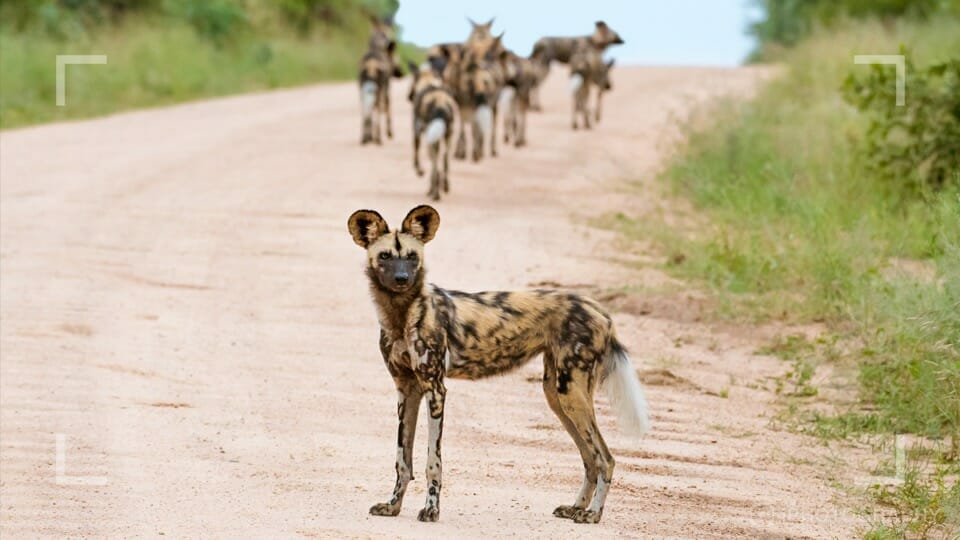 GET RESULTS TODAY!
The iPhotography Wildlife Course will get you impressive results TODAY even if you're a beginner.
Start with your own pets in your living room, step into your backyard. Or, take a quick stroll down to your local park, zoo or woodland.
In no time you'll be capturing photos that send social media into a frenzy!
If you're tired of relying on 'hope photography' – taking hundreds of shots and hoping there's a good one in there somewhere, then this is the course for you.
Your Masterclass In Wildlife Photography!
Developing this online wildlife photography course has been a labour of love for Rachel. She's poured her heart into it and everything she knows from 16+ years travelling the world as a professional wildlife photographer, teaching dozens of photographers through workshops and courses and leading countless safaris.
But, hiring an expert like Rachel to coach you, or booking an African safari is neither cheap nor practical for most people. That's why we've made this course as affordable as we can for everyone.
Ultimately, you're getting the same world-class guidance and professional training for a fraction of the cost. What's more, there are no planes to get on, no hotels to book, and no time away from your family and job needed!
FREE BONUS:
iPhotography Wildlife Flip Card Set!
(Limited Stock Available)
This exclusive limited edition iPHOTOGRAPHY Wildlife Flip Card set gives you key wildlife specific tips, shortcuts, settings and more at your fingertips. Printed on weatherproof, durable cards you can access anywhere.
Never again will you forget key wildlife photography concepts or miss prime opportunities to capture those magical animal moments!
Sign up today and we'll ship you this set of Limited Edition Wildlife Flip Cards (with lanyard) absolutely FREE (while stocks last).
What Our Students Are Saying
Take a look at just some of the independently verified iPhotography reviews posted on Facebook, Trustpilot & Google:
Get Started In Wildlife Photography Today!
You can spend a lifetime in frustration, battling with your camera settings, trying to figure out why your wildlife shots just aren't quite as good as other photographers'. Or, in less than 30 seconds you can have 16+ years of pro-level experience broken down and handed to you on a plate, with 24/7 lifetime access.
Don't delay – join us along with thousands of fellow wildlife enthusiasts on a fun and thrilling learning adventure today. This is the best investment you will make on your wildlife photography journey.
Hit the button below for instant access:
Price:
✔

12 Module Wildlife Photography Course

✔

Certificate of Achievement

✔

3 Tutor Assessed Wildlife Projects

✔

5 Self-Graded Assignments

✔

Downloadable Module Summary Notes

✔

BONUS: Wildlife Flip Card Set (limited stock available)
24/7 Lifetime Access
30 day money-back guarantee
We offer a full 30-Day Money Back Guarantee. You're either thrilled with the iPhotography Wildlife Course and the transformative effect it's had on your photography, or just let us know within 30 days and we'll issue a full refund – no questions asked!
100% Satisfaction
|

Zero Risk

|

Guaranteed
Frequently Asked Questions