FREE PHOTOGRAPHY COURSE FOR BEGINNERS!
Master your camera and learn how to take incredible photos in less than 60 seconds a day!
Are you ready to rapidly improve your photography without watching hours of tutorials or reading hundreds of pages?
Then our FREE photography course for beginners is for you.
Take the 30-Day Photographer free online course and you'll receive a new 60-second (or less) photography class everyday for the next 30 days.
Each class is super short, sharp and easy-to-understand. Best of all, you'll start getting results almost immediately.
You'll discover key photography principles, along with the camera settings and simple tips and techniques that will transform your photography – without overwhelming you.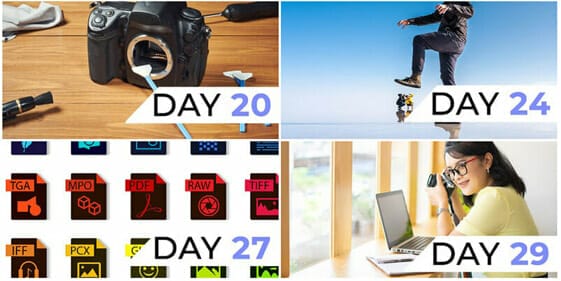 The 30-Day Photographer is the fastest and easiest way to learn the basics of digital photography. 
If you're a beginner, then we guarantee that you will see rapid improvements in your photography within just the first few 60-second classes.
And if you already know a few basics, then you're getting a super fast refresher course. And you'll discover new tips and techniques that improve your skills further.
The 30-Day Photographer course is delivered by the award-winning iPhotography™ team and is 100% FREE.
What's Covered In This Free Photography Course?
Here's just a few of the key topics covered in the free 30-Day Photographer course:
CAMERA SETTINGS
Understand your camera better and learn the key settings that give you the best results.
POSING
Discover the best shapes & poses for men, women & groups. This makes an instant difference to your results.
Lighting
Understand light and some easy techniques you can use today to instantly improve your shots.
EDITING
Discover the editing apps that give you fast, pro-level results!
COMPOSITION
Simple tips and guidelines that add a wow factor to your photos.
And MUCH more – all delivered in 60 second tutorials!
EQUIPMENT
The essential budget-friendly kit you need and how to look after it.
What Our Students Are Saying
Take a look at just some of the independently verified iPhotography reviews posted on Facebook, Trustpilot & Google:
Don't delay – join thousands of aspiring photographers who have quickly improved their knowledge, confidence and their photos with our free photography course – the '30-Day Photographer'!
HIT THE BUTTON BELOW FOR INSTANT FREE ACCESS:
Course Price:
FREE
You'll get:
✔

30 Bite-Sized Photography Classes

✔

Class Notes

✔

Feedback Gallery

✔

24/7 Lifetime Access

✔

Delivered by Professional Tutors
NO CREDIT CARD REQUIRED
Frequently Asked Questions
The Most Trusted Photography Training
All of these respected brands have put their trust in iPhotography™ to deliver world-class online photography training to their customers or team members.