CREATIVE
PHOTOGRAPHY
COURSES
Each of our courses are packed with world-class features, extensive downloads and essential tools to make your learning more engaging, more intuitive, more fun!
Take control of your camera
By introducing brand new, exclusive, interactive and intuitive methods of learning, your camera settings will never be a mystery again!
With so many detailed examples, and information regarding shutter speed, aperture and exposure, you will want to take your camera with you everywhere you go.

Aperture
Create stunning portraits using Depth of Field by understanding how to use aperture efficiently.

Shutter Speed
Capture dynamic movement, creative panning, light trails and more with extensive shutter speed techniques.
Focusing
Say goodbye to unintentional blur or camera shake as we master your camera's focus, ensuring sharp images.
Exposure
Navigate easily through our courses with the perfect camera settings for correctly exposed imagery.

ISO
Low-light is no problem when you have a strong understanding of ISO, noise reduction and camera sensitivity.
Competitions
Regular, fun photography challenges; plus, annual competitions with incredible prizes!
Engaging interactive content
By introducing brand new, exclusive, interactive and simple methods of learning, your camera settings will never be a mystery again! Each lesson is loaded with fun interactive quizzes and educational tests to help you keep all the information where you need it most.
Assignments are optional and are designed to help you develop your photography skills and techniques, as well as enhance your learning experience throughout this course.
Receive personal critiques and constructive feedback from qualified, professional photography tutors.
Individual, imaginative, intriguing
A shot can be technically perfect but aesthetically boring. iPhotography not only teaches you the full spectrum of photography, but encourages students to look at the world through artistic and creative eyes. There are endless suggestions, encouragement and inspiration on how to achieve individuality and exclusivity within your photography. Your camera will become a tool of imagination!
Each element of iPhotography has been designed to ensure that you are always receiving the most up to date version of the content. No information becomes out of date. Download offline and learn on the go with our cutting-edge, optimized and responsive course modules.
All New Learning Experience
Faster, Sleeker, Easier.

One Click Login
All iPhotography Courses, Together.
Brand New iPhotography App
Learn Offline, Anytime, Anywhere.
Download Your Notes
Built-in Note Taking Technology.
Extensive Download Library
Access our library of handy downloads and extra bonus materials, including: lighting diagrams, planning and posing guides, color wheels, contracts, model release forms, checklists, questionnaires and even more.
Are you having trouble understanding your camera's settings? Not to worry – iPhotography has developed a simulation of a typical DSLR camera, with all features, buttons and dials fully explained.
No stone has been left unturned, and no feature of your camera left in the dark.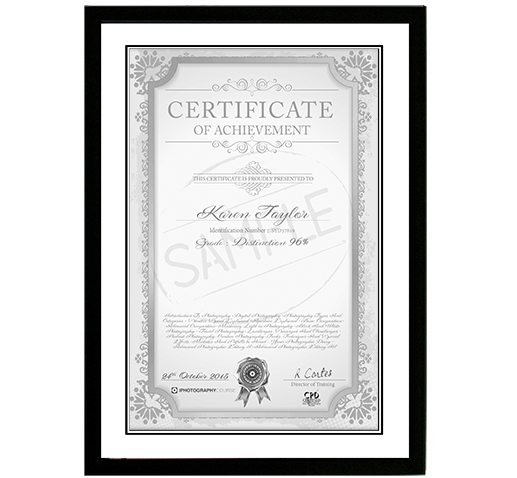 By taking any of our courses you will gain a genuine photography certificate. As an accredited training provider, you have peace-of-mind assurance that your photography training has met a strict external quality criteria.
Passing an iPhotography Course is an achievement that gives you a huge sense of personal pride, confidence as a photography as well as significant career advantages.
Master the digital darkroom
What's more there's exclusive Photoshop techniques that the tutors have developed to customise your photographic needs. Most of the effects demonstrated can be achieved using the free iPhotography Editing app (via the dashboard) so there is no need to be a Photoshop expert.
The videos can now be watched in high-definition, full screen view so you will never miss a moment of photo-editing!